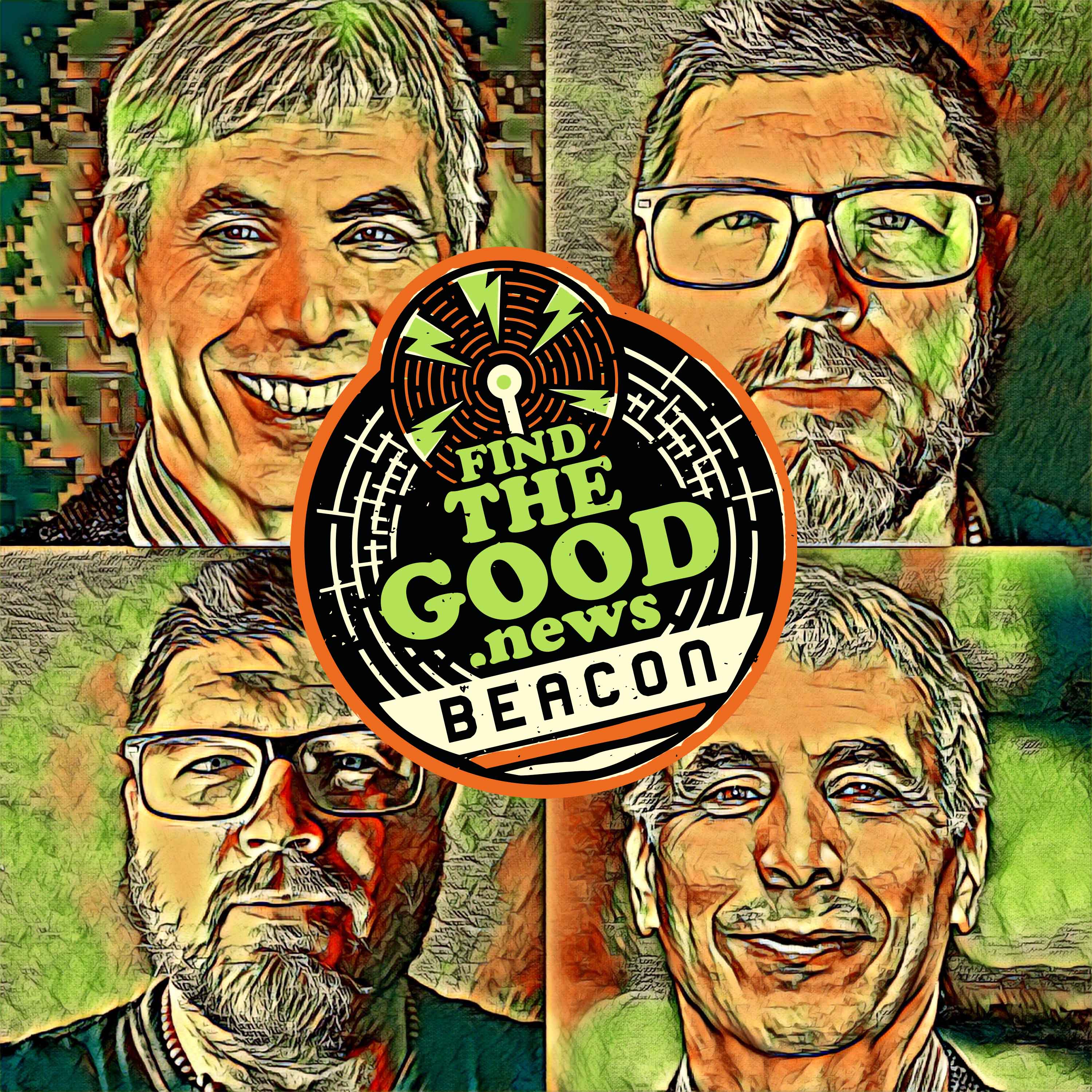 Ep. 100 - The Power of Three - A Beacon Series Interview Ft. Michael J. Gelb, author of "Mastering the Art of Public Speaking: 8 Secrets to Transform Fear and Supercharge Your Career" by New World Library
==========
We made it, my friends and listeners. Welcome to the 100th numbered episode of my Find the Good News podcast.
When I think deeply on the line-up of good people doing good works that I've visited with over the past two years, I understand how each of them has been like a teacher. They've allowed me to discover and learn without judgment, and they've opened up their tender hearts to me without fear of new wounds. I've spoken to neighbors and friends putting their good news into action right here in the Louisiana gulf coast communities we call home, and I've expanded the Good News signal to bring you visits with unique thinkers and doers that are doing good works throughout the world.
In the very beginning, I recall a thought that if I could just produce three quality conversations, get them out into the ether, then others would come, and together we could put something good out into the world. Oddly enough, my guest in this special 100th episode, Michael J. Gelb, propagates a similar philosophy in his good work as a speaker, motivator, writer, and teacher.
As listeners of Find the Good News may know, I suffered from social anxiety for many, many years. This anxiety kept me away from many joyful and beneficial activities in my life. The ability to sit with this microphone and share with you openly and honestly is the result of decades of hard work. In Michael's latest book, "Mastering the Art of Public Speaking: 8 Secrets to Transform Fear and Supercharge Your Career," he cuts right into the heart of fear itself, offering advice, perspectives, and practical thought exercises to help transmute the energies of fear and anxiety.
The reality is that life is relationship, and with relationship comes communication. Good communication, free from fear and anxiety, crafted to serve the common good of all beings, is a good work. I believe that serving the common good is the tie that binds across the expanse of Michael Gelb's body of work. Just looking at the titles of his books you'll find words like creativity, connection, healing, innovation, thinking, mastering, power, learning, discovery, and genius. When a being chooses to point all of these faculties at the well being of others, goodness blooms.
I am thankful to Michael Gelb for being a part of this milestone episode. I am grateful to New World Library for connecting me with Michael, and so many other wonderful authors. I am humbled that so many have taken the time to share the right-round-table with me, whether in person or virtually. 
The world is always changing. I don't know what the next 100 conversations will bring, but I'm ready to listen. Whatever I hear, I'm going to continue to learn, and I'll continue to put forth my best effort to use each of these visits to grow a good heart.
Now, it's time to get take another look at your anxieties and fears, let the butterflies of nervousness become the wings of excitement, then tune your attention to this Good News Beacon, and press play on a little good news.
==========
SUPPORT FIND THE GOOD NEWS >> https://www.findthegood.news/donate/ 
==========
MEET MICHAEL J. GELB >> https://michaelgelb.com/ 
BUY YOUR COPY OF "MASTERING THE ART OF PUBLIC SPEAKING" >> https://bookshop.org/books/mastering-the-art-of-public-speaking-8-secrets-to-transform-fear-and-supercharge-your-career-9781713547259/9781608686278  
EXPLORE NEW WORD LIBRARY >> https://www.newworldlibrary.com/Books.aspx 
==========
FIND THE GOOD NEWS IS PRODUCED BY PARKER BRAND CREATIVE SERVICES >> www.ParkerBrandUp.com  
==========
SUPPORT CARE-HELP OF SULPHUR >> http://care-help.org/ 
•••••••••••••