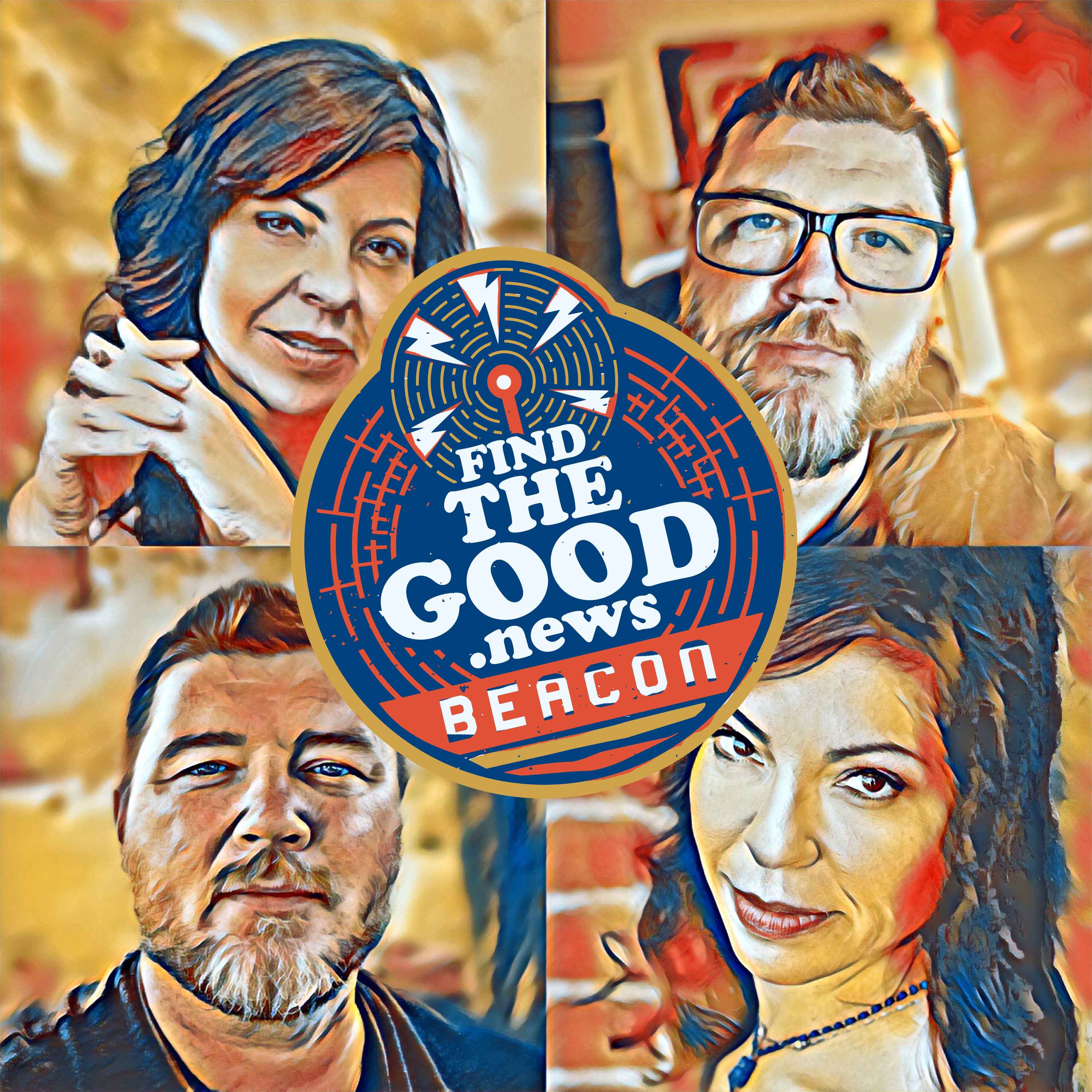 Ep. 84 - The Golden Vine - A Beacon Series Interview Ft. Corin Grillo author of The Angel Experiment: A 21-Day Magical Adventure to Heal Your Life
==========
When you hear the word "Angel," what comes to mind? If you're like most of the people I've encountered, or if you're like I was 25 years ago, then you probably draw up a pretty specific image. Maybe you think of chubby little cherubs with plump and rosy cheeks, sporting harps, and heart-shaped arrows. Perhaps you call to mind images of majestic humanoid beings with grand wings, glimmering armor, armed with glimmering shields and flaming swords.
For me, the earliest image I can call to mind is from an antique painting that still hangs on the wall in the bedroom of my long-deceased Great Grandfather. Two children, a boy, and a girl are crossing a dilapidated bridge under the veil of night. Many of the planks are missing. Over them both is the image of a beautiful woman, draped in fine fabrics, her arms spread wide, her downy wings tucked firmly behind her as she projects and guides the children to safety. I'm sure you know the image I'm talking about; it's a classic.
Over two decades ago, all my preconceived notions about Angels came crumbling down, and I was given cause to ponder again these seemingly mythical Celestials. I entered into a mystery that I've been trying to wrap my arms around for a long time, and recently I was blessed with further clarity. Enter my conversation Corin Grillo, author of the book "The Angel Experiment: A 21-Day Magical Adventure to Heal Your Life" published by New World Library, and founder of "The Angel Alchemy Academy."
In this episode, Corin shares many of the details surrounding a beautiful miracle that changed her life and explains how the unique intercession of Angels on that day started an ongoing relationship with these Celestial beings.
As a trained psychotherapist, Corin was already working to enhance the well-being of others, but by channeling the assistance her Angelic advocates she has enhanced her gifts as a healer and teacher. A big part of her role as a teacher can be experienced by the Angel curious in her book, "The Angel Experiment," where she offers a 21-day series of invocations, prayers, and exercises organized in a way that puts Angelic friendships to work multidimensionally for anyone that's ready to peel back another layer to their life.
I enjoyed this conversation with Corin Grillo, and I'm thankful for the special answers she shared with me, a message with clarification offered by the Angels surrounding her during our conversation.
Now, it's time to suspend any hint of disbelief you may have, spread the metaphorical wings of your mind, tune your attention to this Good News Beacon, and press play on a little good news.
==========
SUPPORT FIND THE GOOD NEWS ON PATREON >> www.Patreon.com/FindTheGoodNews
==========
LEARN MORE ABOUT CORIN GRILLO >> https://www.coringrillo.com/
PURCHASE HER BOOK >> https://bookshop.org/books/the-angel-experiment-a-21-day-magical-adventure-to-heal-your-life/9781608686254
SUBSCRIBE TO HER PODCAST >> https://podcasts.apple.com/us/podcast/the-golden-vine/id1511223164
VISIT NEW WORLD LIBRARY >> https://www.newworldlibrary.com/Home.aspx#
==========
FIND THE GOOD NEWS IS PRODUCED BY PARKER BRAND CREATIVE SERVICES >> www.ParkerBrandUp.com 
==========
SUPPORT OUR ADVERTISERS
•••••••••••••
SULPHUR TODAY >> www.facebook.com/sulphurtoday  / #SulphurToday
•••••••••••••
BRIMSTONE MUSEUM >> www.brimstonemuseum.org  or Call (337) 527-0357
•••••••••••••